Store Information

Build-A-Bear Workshop®
Build-A-Bear Workshop®
It's the most fun you'll ever make! Choose from all kinds of furry friends, add lots of stuffing and make a wish on a heart. Personalize your furry friend by adding scents, sounds, outfits and accessories. Let your imagination soar and create your story at Build-A-Bear Workshop!
Make Your Party Plans Today
Choose your party package and let us make it a party to remember! At your Build-A-Party celebration, every Guest makes & takes home a furry friend, a Party Leader guides the adventure (5 or more Guests), and you'll enjoy party
games & fun-filled activities. Make your party plans at buildabear.com/party.
Hours
Mon–Thu 9am-10pm
Fri–Sat 10am-10pm
Sun 10am-8pm
Deals & Events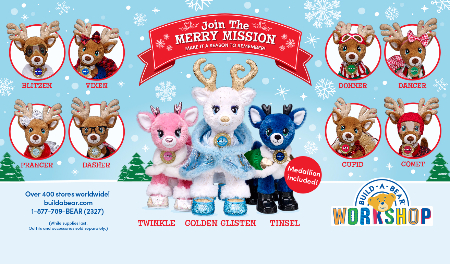 Join the Merry Mission! This year, two new Reindeer Academy twins Tinsel and Twinkle join Santa's 8 reindeer. And taking center stage is Golden Glisten, our star-powered hoofed heroine, back with new golden antlers and hooves!! So, get ready for the Merry Mission and celebrate the season at Build-A-Bear Workshop!
Valid through December 24, 2016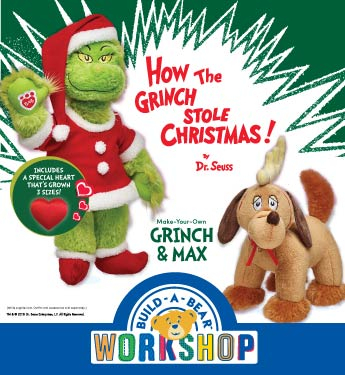 In Stores Now!
The Grinch and Max help everyone discover the joy of Christmas!
He's a mean one, Mr. Grinch! But he also has a heart that's grown three sizes once he's discovered the true meaning of Christmas. His trusty sidekick, Max, is along for the ride to Who-ville. Make your own Grinch and Max and relive the fun of the Dr. Seuss classic How the Grinch Stole Christmas!
™ and ©2016 Dr. Seuss Enterprises, L.P. All rights reserved.
(While supplies last. Outfits and accessories sold separately.)
Valid through December 24, 2016